Colorado Wedding Packages
RIDGEWOOD EVENT CENTER

Announcing our Fall 2020 Wedding + Event Special at Ridgewood Event Center! Book your Wedding or Event during the month of October 2020 or November 2020 and receive $600 off the facility fee and we'll also include our tent and farm tables for free – this offer is valued at over $1,000! It's not too late to plan a gorgeous autumn wedding with the help of Ridgewood's professional staff. We can take care of the stressful details for you allowing you to fully enjoy the rest of your engagement.
We specialize in menu planning, floral design, decor and styling, and we'll even handle the booking of your DJ and photographers. Fall is the most colorful season in Colorado and these dates will go quickly so act fast. Call us directly at 970-385-4537 to book Ridgewood's Fall 2020 Special or to inquire further. This offer is only valid on new event bookings during the months of October and November 2020.
Keep checking back for more Colorado Wedding Packages.

We loved the idea of having an outdoor wedding.  The mountain backdrop at Ridgewood Event Center was beautiful and absolutely what we envisioned. We loved the flexibility to do an outdoor wedding if the weather became an issue. It was also lovely to have our family members stay at Blue Lake Ranch nearby.

I had my wedding at Ridgewood Event Center in December 2019. I was so impressed with the amazing customer service; they were wonderful from the first meeting to even after the big day. You can see the love and care put into everything they do. Weddings can be so stressful and the staff at Ridgewood did everything they could to make the day as seamless and stress free as possible. I recommend them to anyone I know having an event.

Ridgewood Event Center and Blue Lake Ranch were the best locations for my wedding! They were so helpful at the very beginning when we started planning our wedding. The location has housing to stay at for the wedding and that was one of my favorite things about the location. Not having to worry about my family on the roads after a big wedding.

The team at Ridgewood was absolutely amazing and worked so hard to make our wedding perfect, especially Joan the coordinator. If you want a fabulous rustic and quaint location, Ridgewood is the place!

Ridgewood Event Center was the perfect spot to get married! Their professionalism, event planning expertise, and undeniably beautiful location are a winning combination.
A Magical Experience, from the Ceremony to the Reception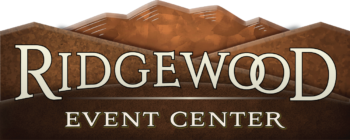 Begin Now
Interested in having your wedding or event at Ridgewood Event Center? Request more info and get in contact with Ridgewood Event Center by clicking the button below.
REQUEST MORE INFO