Wedding Venue with Lodging
Blue Lake Ranch and Ridgewood Event Center

Blue Lake Ranch, our country inn only a mile away from the Ridgewood Event Center, offers lodging, a delicious European style breakfast with Southwest touches, and luxurious accommodations for up to 55 people. Overlooking Blue Lake and lush gardens on its own 70 acres, the Ranch has equally idyllic mountain vistas and privacy.

Your guests will enjoy fireplaces and whirlpool tubs in spacious private casitas, a private three-bedroom, three-bath log cabin, cottages, and rooms with stunning views. It's an ideal setting for bridal parties, rehearsal dinners, small weddings, and other event gatherings, all just one mile from the Ridgewood Event Center.

For honeymooners who want to continue the Southwest theme, consider stops at our sister inn, the Casablanca Inn in Farmington, New Mexico.
learn more about blue lake ranch
The Bride's Room

The Yellow House

Is there a discount rate on rooms at Blue Lake Ranch if we have our wedding at Ridgewood Event Center?
Yes, if your wedding date is before Memorial Day weekend or after October 1 we will work on a discounted lodging package for you depending on the number of nights and the number of rooms that you will be booking. Even though we cannot offer a lodging discount during the summer months, please note that we have a reduction in our accommodation rates right after Labor Day. Also, if you book all the lodging, we can discuss rehearsal dinners, brunches, and other events at Blue Lake Ranch or at Ridgewood.
Do we have to book rooms at Blue Lake Ranch?
No, it is not required and some of our local brides don't need lodging. Many brides and grooms will rent at least one room for two days and use the accommodation to get ready in and also spend the wedding night or two there. Unlike most small properties, Blue Lake Ranch has several accommodations that sleep 6 to 12 guests. These were designed with families in mind and have living rooms, fireplaces, gracious patios and decks, small kitchens and provide a great place for people to enjoy, not just sleep. A grand European buffet breakfast is included. So if you have out-of-town guests who would enjoy being just one mile from the Event Center at beautiful Blue Lake Ranch, please have them call Blue Lake Ranch to discuss at(970) 385 4537.
Can we have our wedding at Blue Lake Ranch?
Absolutely! Blue Lake Ranch is ideal for small wedding parties of 2-50 people. Lodging is required. Please contact Blue Lake Ranch for details, (970) 385 4537.
Is it possible to book all the rooms at Blue Lake Ranch?
Yes, The Ridgewood Event Center is an ideal location for destination weddings and out-of-town parties because of our great lodging. Blue Lake Ranch can accommodate 40-65 guests. When you have exclusive use of Blue Lake Ranch, we can provide other amenities such as bridal luncheons, rehearsal dinners, and picnic lunches, or help arrange tours, such as rafting, horseback riding, and 4×4 excursions. If you are interested in exclusive use of Blue Lake Ranch, it is best to book as soon as possible. Exclusive use before Memorial Day and for the month of October requires only a two-night rental. Exclusive use from Memorial Day to October 1 requires a three-night stay. There are special guidelines for booking groups or reserving all lodging on an exclusive basis, please call us at (970) 385-4537 for more details. At Ridgewood we think most weddings are actually two family reunions in addition to a wedding and there is not a better site for getting families together than the Ranch with its beautiful private setting and gracious and spacious accommodations.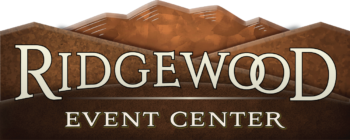 Begin Now
Interested in having your wedding or event at Ridgewood Event Center? Request more info and get in contact with Ridgewood Event Center by clicking the button below.
REQUEST MORE INFO