Frequently Asked Questions
WEDDING VENUE IN COLORADO

Ridgewood Event Center is proudly among the most beautiful wedding venues in southwest Colorado to get married. Find answers to some frequently asked questions here.
What does the facility fee include?
The Ridgewood Event Center wedding facility fee is based on an eight-hour or less event for 100 people. Events other than weddings or events lasting only a few hours can be individually quoted.

Our facility fee includes the use of our beautiful grounds and complimentary use of your choice of wedding sites. Ridgewood Event Center furnishings include high quality tables (for cake, greeter, gift, caterer, bar, DJ, and guests), wooden chairs with padded seats, linens (napkins, skirts, toppers for all tables), fine china, silverware, glassware (water goblets, wine glasses, and champagne flutes), a timeline consultation two weeks prior to your wedding, and staffing for your event. There is a $9.50/person charge for guests over 100, and an additional $150/hr for events lasting longer than eight hours. Tax is not included.

Your set up time is included in your eight-hour facility rental. A  member of our staff will be present for your entire event.

The facility fee includes an event plan/timeline consultation prior to your wedding to assure a well-planned and coordinated event and set-up of the facility. The fee also includes staffing for the set-up and clean-up of our equipment and the facility.

The facility fee includes the caterer's use of our professional kitchen with a commercial six-burner stove, double refrigerator, dishwasher, large freezer, and 25 feet of prep counter space.
The Ridgewood staff for an additional fee. It is the caterer's and bartender's responsibility to serve and clear. Our staff washes all dishes as they are cleared to the kitchen, and will put away all Ridgewood equipment and dishes. Our professional kitchen allows caterers to easily serve foods at correct temperatures and focus on the great food and service they are providing.

The Ridgewood Event Center can seat 100 people inside and 20 people on the porch. For larger events or events that need more elaborate set up and space, The Ridgewood has a stunning white 40ft x 60ft high peak tent with sides. There is also a choice in lighting: globe lighting around the perimeter or Tuscany lighting draped throughout the center of the tent. This is not included in the base facility fee for 100, but can be rented for a very reasonable fee.

For events with more than 100 guests, there is an additional $8.50/person charge, and for events lasting more than eight hours, an additional $150/hr can be added.
When is your wedding season?
Our regular wedding season runs from May through October. We are also happy to arrange smaller weddings at our Blue Lake Ranch Inn throughout the year. For an earlier or later event, please inquire.
How do we reserve our date?
After you have toured the REC and chosen your date, we will need a signed contract and a $500 reservation deposit to secure the date. The reservation deposit will be applied to your final bill, which will include tax and any miscellaneous charges. The balance of the reservation deposit is then refunded to you one week after your event.
When is the facility fee due?
The facility fee (or first payment) is due nine months prior to your wedding date or 10 days after booking your event if that date is within the nine-month period. It is possible to arrange a payment plan. The entire facility fee is due two months prior to your event.
What happens if we need to change our date?
If we receive notice nine months prior to your wedding, your deposit will transfer to your new date. If we receive notice less than nine months prior to your wedding, we will be happy to move your wedding event to a new date; however the amount that can be credited toward your new date depends on our success in rebooking your original date.
What happens if we need to cancel?
If you cancel more than nine months prior to your original event date, your reservation deposit is refundable, less a $250 cancellation fee. Any facility fee that has been paid will be refunded in full. If you cancel less than nine months prior or after your event has been rescheduled, you are responsible for any damages suffered by the Ridgewood Event Center by the cancellation. Unless we are able to rent the Ridgewood Event Center for a similar event, these damages usually amount to the facility fee minus $500.
What is the maximum guest capacity of the Ridgewood Event Center?
The Ridgewood Event Center accommodates up to 100 guests inside, 20 guests on the patio, and our tent can comfortably seat 200. We have chosen to do weddings and events for up to 200 guests.
Do we need a wedding planner?
This is a personal choice. Many brides who are working or studying right up until their wedding feel they need this assistance. Brides planning destination weddings often need a planner. Many brides, however, want to plan every detail of their weddings and really enjoy the process. Our staff is also available for $50/hr to lend our expertise—we have assisted with over 750 successful weddings.
Included in our facility fee is one meeting with you or your wedding planner to discuss your event plan and timeline. This meeting is usually one to two weeks prior to your wedding. This is a time-tested guide for your wedding day and will cover the arrival of vendors, when and where they set up, how all of our equipment will be set up, and how your event will proceed. We pride ourselves on helping you avoid many common pitfalls associated with large events.
We will set up our equipment on your event day and be there two hours in advance to greet and assist your vendors. Our staff will be there during the event. If you think you may need our professional assistance in your planning, just ask.
Can we get married by the La Plata River?
Absolutely! We now have a Riverside Ceremony site. Our hand-hewn log benches can seat around 100 people with plenty of room for additional chairs or standing room. There are beautiful groomed paths for your guests to enjoy along the river by the ceremony site. Because the La Plata River is also used for irrigation, the flow during the summer and fall can vary significantly. You don't need to commit to the Riverside Ceremony site until the day before, just let us know your preference for location.
Does the Ridgewood Event Center provide food or alcohol?
For large weddings, we ask that you work with an outside caterer. For some small weddings and other events such as rehearsal dinners Blue Lake Ranch may be able to cater. When you rent the Ridgewood Event Center, your event is your private party, allowing you tremendous flexibility in food and beverage choices. You will be able to purchase and serve your own beverages, which has saved some renters thousands of dollars. You can also get very creative on your food choices and costs. Families also have the option of preparing food themselves and hiring servers, another way to have the foods you want at an affordable price.
What vendors do you recommend?
We have a preferred vendors list made up of regional vendors, most of whom have done many events at the Ridgewood. We have worked with many others who have also done a superb job, so the list is not comprehensive. Once you've booked, we'll get the list to you and our staff can also make specific recommendations to meet particular requests.
Do we need a tent?
We recommend the use of a tent for weddings larger than 100 to 120 people. Many smaller weddings also choose to use a tent to allow for more set-up options. For instance, you may choose to seat everyone in the tent for dinner and use the entire event center for your dancing and party activities.
Is there a discount rate on rooms at Blue Lake Ranch if we have our wedding at Ridgewood Event Center?
Yes, if your wedding date is before Memorial Day weekend or after October 1 we will work on a discounted lodging package for you depending on the number of nights and the number of rooms that you will be booking. Even though we cannot offer a lodging discount during the summer months, please note that we have a reduction in our accommodation rates right after Labor Day. Also, if you book all the lodging, we can discuss rehearsal dinners, brunches, and other events at Blue Lake Ranch or at Ridgewood.
Do we have to book rooms at Blue Lake Ranch?
No, it is not required and some of our local brides don't need lodging. Many brides and grooms will rent at least one room for two days and use the accommodation to get ready in and also spend the wedding night or two there. Unlike most small properties, Blue Lake Ranch has several accommodations that sleep 6 to 12 guests. These were designed with families in mind and have living rooms, fireplaces, gracious patios and decks, small kitchens and provide a great place for people to enjoy, not just sleep. A grand European buffet breakfast is included. So if you have out-of-town guests who would enjoy being just one mile from the Event Center at beautiful Blue Lake Ranch, please have them call Blue Lake Ranch to discuss at(970) 385 4537.
Can we have our wedding at Blue Lake Ranch?
Absolutely! Blue Lake Ranch is ideal for small wedding parties of 2-50 people. Lodging is required. Please contact Blue Lake Ranch for details, (970) 385 4537.
Is it possible to book all the rooms at Blue Lake Ranch?
Yes, The Ridgewood Event Center is an ideal location for destination weddings and out-of-town parties because of our great lodging. Blue Lake Ranch can accommodate 40-65 guests. When you have exclusive use of Blue Lake Ranch, we can provide other amenities such as bridal luncheons, rehearsal dinners, and picnic lunches, or help arrange tours, such as rafting, horseback riding, and 4×4 excursions. If you are interested in exclusive use of Blue Lake Ranch, it is best to book as soon as possible. Exclusive use before Memorial Day and for the month of October requires only a two-night rental. Exclusive use from Memorial Day to October 1 requires a three-night stay. There are special guidelines for booking groups or reserving all lodging on an exclusive basis, please call us at (970) 385-4537 for more details. At Ridgewood we think most weddings are actually two family reunions in addition to a wedding and there is not a better site for getting families together than the Ranch with its beautiful private setting and gracious and spacious accommodations.

We loved the idea of having an outdoor wedding.  The mountain backdrop at Ridgewood Event Center was beautiful and absolutely what we envisioned. We loved the flexibility to do an outdoor wedding if the weather became an issue. It was also lovely to have our family members stay at Blue Lake Ranch nearby.

I had my wedding at Ridgewood Event Center in December 2019. I was so impressed with the amazing customer service; they were wonderful from the first meeting to even after the big day. You can see the love and care put into everything they do. Weddings can be so stressful and the staff at Ridgewood did everything they could to make the day as seamless and stress free as possible. I recommend them to anyone I know having an event.

Ridgewood Event Center and Blue Lake Ranch were the best locations for my wedding! They were so helpful at the very beginning when we started planning our wedding. The location has housing to stay at for the wedding and that was one of my favorite things about the location. Not having to worry about my family on the roads after a big wedding.

The team at Ridgewood was absolutely amazing and worked so hard to make our wedding perfect, especially Joan the coordinator. If you want a fabulous rustic and quaint location, Ridgewood is the place!

Ridgewood Event Center was the perfect spot to get married! Their professionalism, event planning expertise, and undeniably beautiful location are a winning combination.

Ridgewood Event Center was a perfect fit for our rustic wedding. We stayed at Blue Lake Ranch in the Upper and Lower Spring House to keep our bridal parties separate, yet within the same space. It gave us a mini vacation getaway; we could relax leading up to the big ceremony and get ready surrounded by beautiful scenery. Most of our guests stayed at Blue Lake Ranch as well.

We absolutely loved Ridgewood.  This venue was perfect for us, beautiful scenery, serene and out in the country. 

From the moment I saw Ridgewood, I knew it was the place I wanted to have my wedding. Not only was it beautiful with all of the flowers, river and tree, but the Alfords were so kind and supportive. 

Since the very first event at Ridgewood, our own wedding, and years before there was even a building or plan, just that incredible view and 100 straw bales, we knew what a special spot nature had created. We look forward to sharing it with you.
A Magical Experience, from the Ceremony to the Reception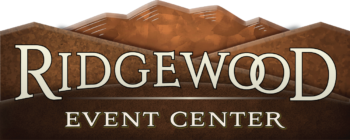 Begin Now
Interested in having your wedding or event at Ridgewood Event Center? Request more info and get in contact with Ridgewood Event Center by clicking the button below.
REQUEST MORE INFO